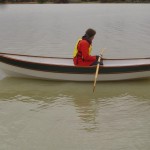 Was practically British weather for her first dip into Lake Cullulleraine. I had planned on filling her up with water to check the positive buoyancy but it was way too cold for that.
Solo row was a complete success - sits very nicely in the water and rows effortlessly. Couldn't see any water seeping in around the trunk logs or any of the other expected points. Then loaded the family in and with it sitting lower in the water I remembered I haven't yet silicon-ed in the drain plugs so there was a small amount of seeping but that is easily remedied...
On to varnishing the spars and getting the last of the hardware on - not long now!